Are you thinking about going on a cruise? We absolutely love to go on a romantic cruise. Then again, I don't believe we have found any travel we can't embrace and enjoy. Being together and experiencing things as a couple in love is the highlight of all our trips.
I recently spoke to a lady trying to decide if a two-week cruise was the right fit for her and her husband. Another couple they vacation with wanted to take a cruise the following year and invited them to join. She was concerned about the uncertainty of cruising. Our conversation was the inspiration for this post.
Reflecting on our previous cruise experiences, I shared what I felt were some of the pros and cons of a cruise vacation.
PROS:
Cruising is like vacationing at an all-inclusive resort ~ A cruise comes with many built-in amenities: nightly entertainment, a wide variety of food options, bar service, fitness centers, casinos, spas, massages, pools, shore excursions, to name a few. Everything is convenient within your reach, and you can return from vacation, feeling very pampered.
It's relaxing, and someone else does all the planning. When cruising, you get to see many different sites and experience other places without having to pack,  switch hotels, and unpack. It's nice to feel settled in for the entire trip in one place.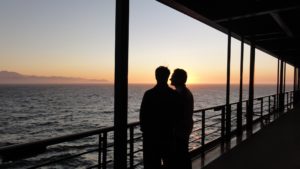 Most cruise schedules have sea days. These are days where you are at sea, traveling to the next port-of-call. If you use this time wisely, these days can be delightful. This gives you a chance to sleep in or rise early and enjoy a sunrise over the ocean. You could choose to enjoy some leisure time by the pool, get a massage, take in a movie, a live show, or even hit the casino. Cruising gives you a great variety of activity and entertainment options.
A cruise offers a wide variety of travel destinations. For us, this is one of the most significant advantages of cruising. In one trip we can see and experience several places. True, we don't always get to spend as much time at each stop as we'd like, but it gives us a taste of various places. Some walk away knowing we will be coming back to explore more, and others end up with no desire to return.
CONS:
When cruising, you see many different places, but you don't have room for spontaneity. You can't just choose to stay longer and experience more at one location. If you happen to discover a place that wasn't on your list to visit, you may not have the time to add it to your list. That cruise ship won't wait for you.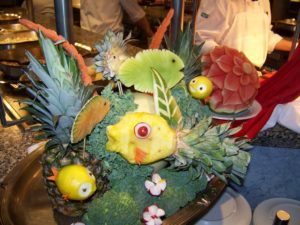 Look out for the extra pounds. Cruise ships are known for their wide variety of delicious food available at all day hours (even 2 am room service pizza). There are buffet-style meals in one of the main dining areas included in the cruise fare. Cruise ships also have specialty restaurants serving high-quality food at an additional price. If you are not careful, you can find yourself overdoing it.
In comparison to a resort, a cruise cabin is tiny. The good thing is you won't be spending a lot of time in your cabin—one of the top priorities for us to organize our cabin right from the start. As soon as your luggage arrives, plan on unpacking. Our blog about Comfort on Cruise Ships will give you some excellent tips for making your room more comfortable.
For some, motion sickness can be a real problem. Fortunately for us, we have never been bothered by it. There are some precautions you can take. Put a call into your doctor's office before your trip, let them know that you will be taking a cruise, and talk to them about motion sickness prevention options. Your ship's crew will also know the best things to help control the problem should it arise at sea. My guess is they are well stocked on ginger.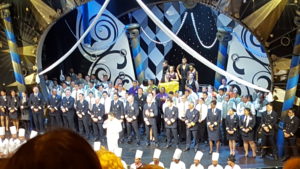 Cruise ships are not small. Throughout your cruise, you will do a lot of walking on the boat, not to mention all of the walking on the shore excursions. Your cabin might be on one end of the ship and all of the ship's activities on the opposite end. Make sure to bring your most comfortable walking shoes that have are broke in.
Just like any vacation, there are pros and cons to cruising. It's a personal choice that only you can make. We find that cruising is an exciting addition to our vacationing itinerary. If you have never cruised, we encourage you to stop procrastinating. Why wait for someday. Start checking out some cruise options today.