10 Tips for Comfort on Cruise Ships | Great For First-Time Cruisers

If you are thinking about taking a cruise, I'm sure you have heard that cruise cabins are small. That's not an understatement. Even cabins with a balcony can be half the size of a standard hotel room. Although quint, cruise ships do make good use of the space. With these well-planned tips for comfort on cruise ships, that space is well utilized, giving you even more comfort.
Between Gary and I, we have several cruises behind us. And a couple on the calendar. We have gotten very efficient in how and what we pack while on a cruise. Organizing our room at the beginning of our cruise is a priority. This organizing has made our cruises very pleasant.
Cruise tips for first timers
You need to be prepared and bring a few things with you from home or buy them on Amazon to be prepared, organized, and have a comfortable cruise.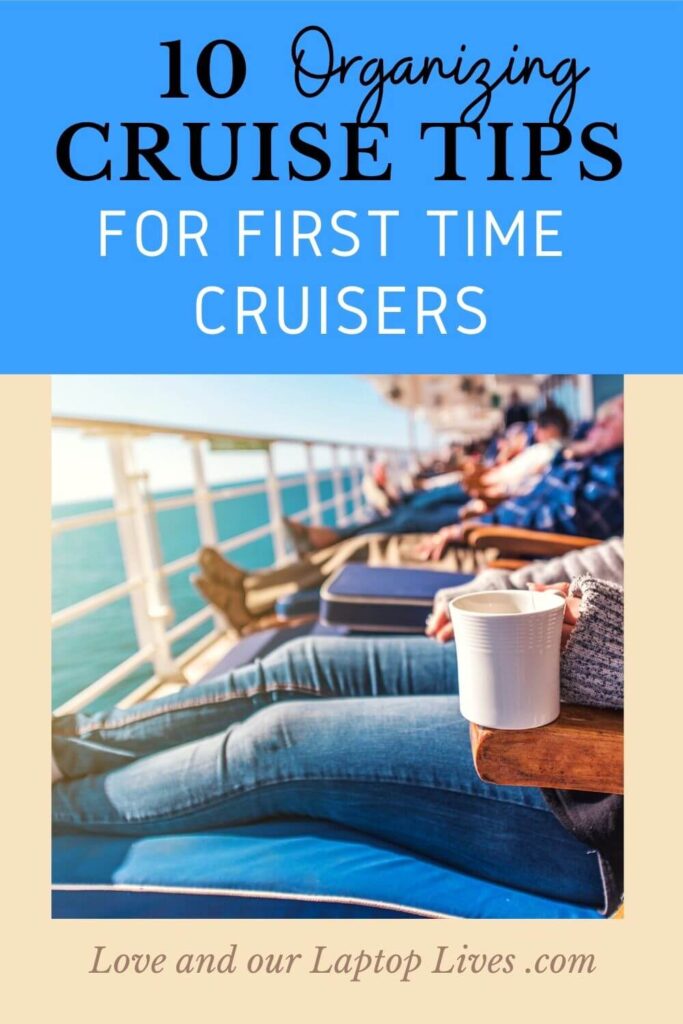 This post may contain affiliate or sponsored links. If you click on a link and make a purchase, I may receive a small commission (at no additional cost to you). Please see my full disclosure policy for details.
Are you unsure if a cruise is right for you
Check out The Pros and Cons of Taking a Cruise
1 ~ Know what to pack for a cruise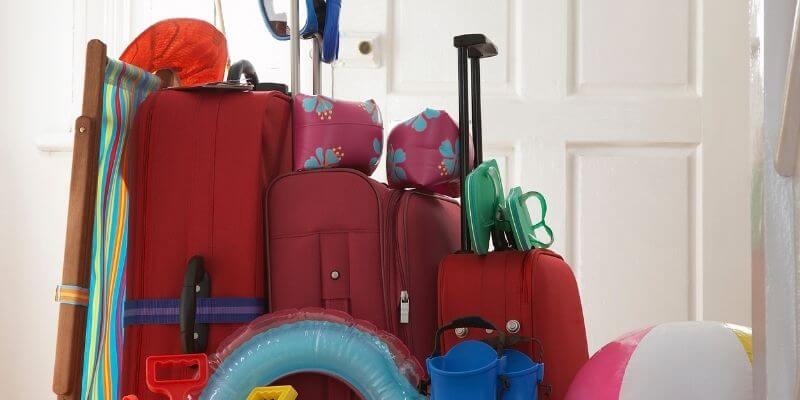 I overpack because I like to be prepared for anything. So this one is a challenge for me.
Cruising is different than taking a regular vacation. You can't just pop down to the nearest shopping mart and grab those few things you forgot. So it would help if you were prepared but not over-pack.
Start with your choosing your wardrobe. Check with your cruise line dress code and suggestions. Most cruise lines have a particular dress code for the evening. You will want to be prepared for this so you are not left out of all the excitement.
Try on your clothes before packing. If they are not comfortable, don't bring them. Cruising is all about comfort. Add a few swimsuits, and don't forget the flip-flops.
2 ~ Clear the clutter
Cruise ship cabins often have many items on the counter of the desk area when you arrive. Most of them you won't use.
Start by taking all of those items and placing them on the high closet shelf: pamphlets, magazines, or the ice bucket. There is no need for something you won't use, taking up valuable counter space.
3 ~ Unpack completely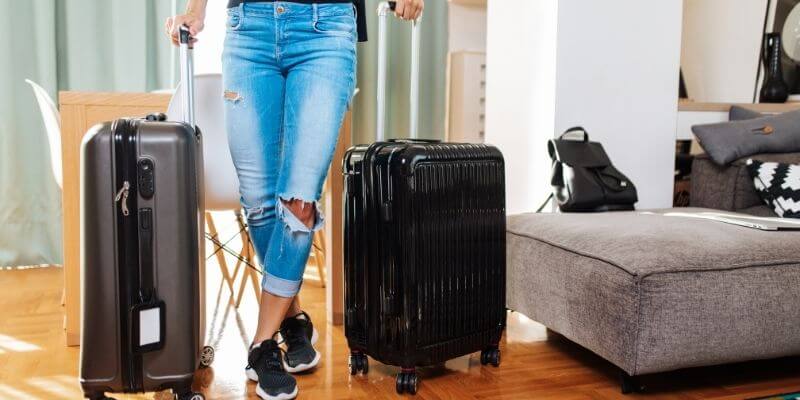 Once your luggage arrives at your cabin, you should unpack it fully. You will be much more comfortable if you are not continually pulling suitcases out to look for things.
When we pack for any travel, we use Packing Cubes. We Love them! They are so convenient and help us stay organized, not only when packing but while on vacation. Cruising is no exception.
When unpacking, remove the packing cubes from your luggage and slip them right into the drawers or on the closet shelf. Everything is organized and in place in mere minutes.
Once your luggage is empty, place them under the bed or in the closet.
4 ~ Increase your storage space with hanging shelves
A hanging closet organizer can be convenient and pack easily in your luggage. I even use them at home. Think of the kind that you often see for sweaters.
Hanging closet organizers come in wide varieties. The best ones are the kind that has a stiff or supported bottom to each shelf, and the entire unit folds up easily into a single square for easy packing.
A hanging closet organizer provides additional storage space for clothes or almost any other item you choose. If you have one with four to six shelves, this provides storage equivalent to a small dresser. Using a closet organizer, you will free up valuable drawers, shelves, and counter space throughout your cabin. You can use them to store just about anything – clothes, shoes, swim gear, etc.
Check out these extras
Tip For Staying Healthy While Traveling
5 ~ Make the most of the hangers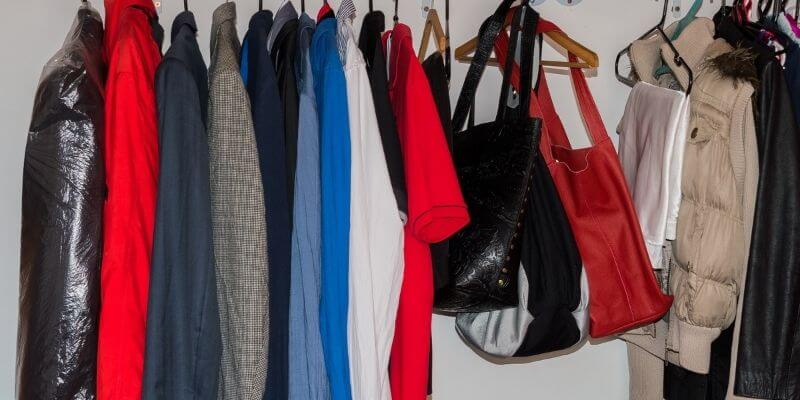 In most cruise ship rooms, storage space will be at a premium, particularly if you are trying to accommodate the belongings of more than one person. Your stateroom will have some combination of closets, drawers, and shelves.
There will be hangers provided in the closet, and you should utilize them. Drawer space is often at a premium, so you should plan to hang as many clothes as possible. If you find that you need additional hangers, you can request them from your stateroom attendant.
6 ~ Pack Laundry bag
Bring along a couple of medium to large laundry bags. Place them at the bottom of your closet to collect dirty laundry throughout your trip. This will help keep your closet organized and your cabin tidy. With two, you can organize your laundry as you go and streamline your return packing. Note that while cruise ship rooms usually have a bag to send in clothes to the ship's laundry for washing or dry cleaning, these are almost always paper and not reusable.
7 ~ Over-the-door organizer
Using an over-the-door shoe organizer for the back of the bathroom door is a must. This organizer may be the item you will most often see included in recommended packing lists and checklists for cruises.
Check with your cruise line. Some have stopped allowing these because of scratching the doors.
Most cruise ship bathrooms are tiny — you are lucky to fit two people in the bathroom simultaneously. The storage space and counter space in the bathroom itself are minimal. You can probably work it all out if you are a couple traveling alone. But this organizer bag will make life so much easier.
Using the desk provided in the cabin will free up valuable bathroom time. You also have more elbow room at the desk than in the bathroom.
**Please check with your cruise lines about using these ~ Disney cruise line does not allow them and will fine you for using them.
8 ~ Bring magnetic clips
A forgotten detail about cruise ships is that they are made of metal. Magnetic clips make it easy to hang essential items like your ship card, menus, port passes, or your itinerary for the ship's activities within easy reach as you go out the door.
This also helps keep things off the top of the desk so it can be used for other things.
We also bring these magnetic hooks with us. We can hang our lanyards on them right by the door. That way, we don't forget them when heading to the pool or elsewhere on the ship.
9 ~ Zip lock baggies
Different sizes of baggies are a must when you are traveling or cruising. We use them for so many things. They keep your passport and iPhone dry while you are at the pool. They are great for bringing munchies back to your room or packing your damp swimsuit in when coming back from a shore excursion.
10 ~ Use multi-plug outlets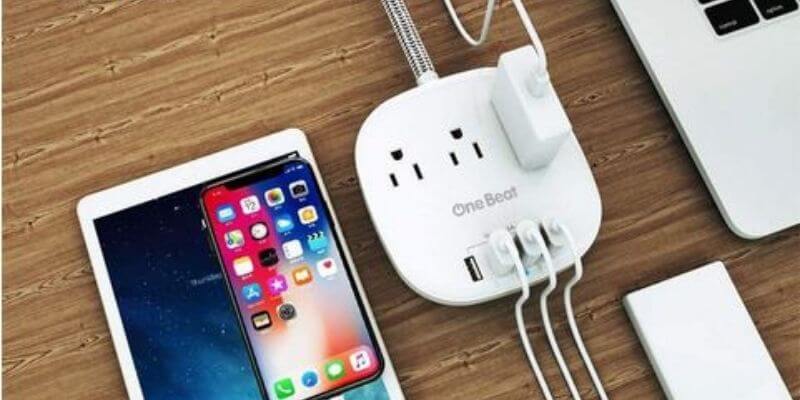 Most cruise ship rooms have a minimal number of electric outlets. Often, you will only find 1 or 2 outlets. You should bring something to make use of what is available.
With various tablets, phones, and other devices the average person travels with, you may need a little help charging them all. Pack a multi-plug outlet to help with this.
Cruise ships do not allow surge protectors. This one is our favorite!
This desktop power strip with 3 Outlets, 4 USB ports, a flat plug, and a five foot long braided cords. Perfect for the cruise ship.
Remember, this is your vacation. Maybe leave all the devices at home.
Cruising can be your best vacation, and with just a little extra preparation, it can be your most relaxing vacation ever.