FUN~FAMILY~FRIENDS~FOOD~ FIREWORKS~ROMANCE
One of our favorite things to do in the summer is taking road trips. Most of those destinations involve heading to the water. The holidays add a new element to those road trips. Friends, Family and Food and of course, Independence Day – Fireworks! We were not sure how many of those elements would play into this year's holiday.
As the family gets older, bigger and busier, everyone starts having plans of their own and are being pulled in all directions. This year I had just put out an invite to family and said, "let's do the zoo and get together". Problem being is jobs, travel distance and other things made this attempt to do something different a 'no-go' for a family day. Maybe next year we can bring both families together.
That being the case we headed to the water. We were hoping Gary would get a chance to try out Kayaking. Not so, but he did get to try out something called "The Blob".
One thing that will not change is the food but on a smaller scale. Take a look at some of our favorite must-have dishes we will be adding to our Independence Day Fun.
I just want to go on record here. Gary is definitely the better cook in this household. He could cook me under the table any day. I think that comes from watching all those cooking shows. Go, Gordon Ramsay!! He likes to take chances in the kitchen and the spice cabinet is his friend. I like to have a recipe and stick with it. This holiday weekend along with the hamburgers and brats on the grill, these are some of the favorites you might see on the picnic table.
Sour Cream Macaroni Salad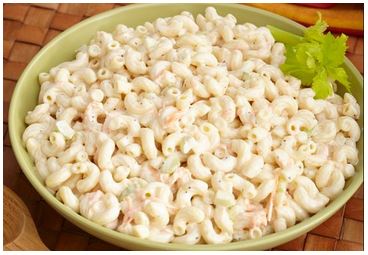 Ingredients:
1/2 pint sour cream
3 Tablespoons vinegar
1 cup Mayonnaise or Miracle Whip
1/2 cup sugar
1 Tablespoon yellow mustard
2-3 cups COOKED macaroni
1 cup cooked meat of your choice (diced ham, tuna, cooked shrimp)
1/2 cup finely diced celery
1/2 cup finely diced onion
1 grated carrot 1/2 cup shredded cheese

BOIL 1 – 1 1/2 cups Elbow Macaroni (macaroni doubles in size during cooking)
MIX Sour cream, vinegar, mayonnaise, sugar, and mustard together to make a dressing.
TOSS all of the other ingredients in a large bowl that can be covered.
Add in the dressing and carefully MIX together so all ingredients are covered with the creamy and delicious dressing.
Optional To add a dash of extra flavor and eye-appeal, try one of these and make it your own.
SPRINKLE Right before serving sprinkle with paprika, smoked paprika, dill, parsley, cilantro, or grated cheese.

Cover and Refrigerate.
Grandmas Refrigeration Cucumbers

First, Make the Cucumber Mix
About 12 small to medium cucumbers thinly sliced
1 onion thinly sliced
1 green pepper thinly sliced
4 Tablespoons Salt
MIX cucumbers, onion, and peppers in a bowl.
SPRINKLE with salt and toss.
(Grandma always put ice cubes in the mix, I'm assuming it's because it sat on the counter during the day)

LET STAND covered for 4 hours or overnight in the refrigerator.
Rinse well and drain all water.

SECOND, MAKE THE BRINE
While the cucumbers are soaking.
Mix in a small saucepan
1 cup white vinegar
1 1/2 cups sugar
Optional: Lawry's seasoned pepper to taste (for me this is a must!)

~ BOIL brine, till sugar, is dissolved and let COOL until room temp ~
POUR cooled brine over cucumbers.
You can eat these right away or refrigerate.
My daughter would eat these all the time. She likes them without the added veggies. Just the cucumbers and the brine. What could be an easier addition to and meal?
Super simple and so good!!
Where ever the holidays find you, whether it's Independence Day or some other holiday. Fill it with food, fun, and family.
Gary & Michelle
X O X O
Let's Connect
See more of our travel and lifestyle pictures on Instagram.
Join our travel-loving community on Facebook
Join us on Twitter for more of our shenanigans.
See many of our travel videos on Youtube
Pin this post for later and check out all of our boards on Pinterest
Visit our Amazon Store for our personal recommendations.
Subscribe to Love and Our Laptop Lives to see our extra travels and exclusive travel tips.
Thanks for stopping by! If you would like to reach us with a
feature idea, you can email us at ~ [email protected]
We would love to partner with you to feature your travel destination.

Follow us on Social Media
Facebook @ Love and our Laptop Lives
Pinterest @ Love, Travel and our Laptop Lives
Instagram @ Love our Laptop Lives
Twitter @ Love and our Laptop Lives
Youtube @ Love and our Laptop Lives
Amazon Store @ Love and our Laptop Lives
AMAZON ASSOCIATES DISCLOSURE
Love and our Laptop Lives is a participant in the Amazon Services LLC Associates Program, an affiliate advertising program designed to provide a means for sites to earn advertising fees by advertising and linking to amazon.com
Flights
*Search for flights using Skyscanner
*Also try Tripadvisor
Accommodations
*Book hotels on Tripadvisor, Hotel.com or
Booking.com
*For all-inclusive resorts use Apple Vacation and
BookVIP, We love also Sandals Resorts.
Rental Cars
*For rental cars use Car Rental 8 or
Skyscanner Car Rental.
Cruise
*Find the best deals on Cruise Direct.
Travel Insurance
*Purchase Travel Insurance through Travel Guard.