Picking ~ Cooking ~ Recipes
It's Strawberry Season! One of the best parts of summer is strawberry season. What is it about strawberries that bring with it such fond memories?
My grandparents had a farm and growing up one of my favorite times of the year was June. It meant strawberry time. Grandma had a garden bigger than most yards today. My grandma would get up before the sun and be out in her garden picking those red ripe strawberries before I could even think about opening my eyes.
I loved coming down in the morning and seeing those large tubs of strawberry sitting on the kitchen counters. Seeing them meant only, one thing. We were going to spend the day in the kitchen: canning, freezing, and munching on fresh strawberries.
I no longer have the pleasure of enjoying fresh strawberries right out of grandma's strawberry patch. I need to go to a local farm to either pick my own berries or have them do it for me. Picking my own is rewarding. An early morning venture before it gets hot, and I get the pleasure of tasting while I pick. This is an adventure I do on my own. I love being in the field picking berries and remembering the happy days spent on Grandmas farm.
What is a Strawberry
The garden strawberry is a fruit that is grown by many home gardeners. In certain parts of the United States, it is harvested year-round. 80% of all commercially harvested strawberries are grown year-round in California.
In most parts of the United States, strawberries are an early summer fruit and are harvested in late May through July, all depending on the weather.
The strawberry is known for its bright red color, juicy texture, and sweetness.
The strawberry is the only fruit with its seeds on the outside of the fruit. Which makes it technically not a fruit.
Strawberries are perennials. If you plant one strawberry plant it will come back and produce berries for about 5 years.
Strawberry plants multiply by way of runners.
The average American eats 3 1/2 pounds of fresh strawberries each year.
In France, they believe that strawberries are an aphrodisiac and are served to newlyweds for breakfast in the form of sweet soup.
Strawberries are consumed in large quantities, either fresh or in prepared foods such as shakes, jams, pies, and yogurt.
Tips for Picking Strawberries
Strawberry season is anywhere from Late May to Mid July in Wisconsin.
The ripeness and size of the berries are subject to the weather.
Fields can be muddy if it's rained recently. Some farms use straw between the beds. Make sure to wear the right shoes to protect your feet.
Wear old clothing when picking berries, any squished berries on your clothes will stain them.
Check with the farm you are going to go pick at to see if you need to bring your own containers.
Remember some farms only accept cash.
How To Use Your Strawberries
Strawberries perish quickly, here are some suggestions to maintain quality and freshness.
Refrigerate the berries in their original container uncovered as soon as you get them home.
Don't wash your berries before refrigerating them. This will cause them to spoil faster.
Wash your berries before using them. Never soak your berries, it cause's them to lose their flavor.
Remove the stem only after you wash the berries.
This post may contain affiliate links. That means if you click and buy, I may receive a small commission (at no cost to you). Please see my full disclosure policy for details.
5 Things to do with Fresh-Picked Strawberries
Once you get in the field it's easy to get so wrapped up in picking and sampling that before you know it you have picked a lot more strawberries than you had planned to pick. It's no longer just about going home and making a pie for supper. Let's look at several ways to use our strawberries.
Eat the strawberries fresh
The best thing to do is EAT THEM!!! I eat a few as I am picking them, I know shame on me. Blame my grandma, that was allowed and even encouraged. To say she was the best is an understatement. Once I get home I rinse a quart of berries, pull the stems off and cut up several berries. I then add sugar and refrigerate then for supper. I also cut some up to just munch on throughout the day.
Freeze the strawberries
To freeze them whole with no added sugar ~ Leave berries whole, gently rinse them, remove the stem and leaves, lightly dry the berries and freeze them in a single layer on a cookie sheet lined with parchment paper. Once the berries are frozen bag them and freeze.
To freeze the berries sweetened ~ Gently rinse your strawberries, remove the stem and leaves, then slice the fresh strawberries.
Mix 4 cups of sliced strawberries and 3/4 cup sugar. Let the mixture stand for a few minutes while the sugar dissolves. Bag and freeze.
I pick so many each year because I love to freeze them so I have strawberries year-round. Frozen strawberries are great in smoothies, ice cream, yogurt, or even being used in many dessert or muffin recipes.
Note: Always check to make sure frozen berries are compatible with your recipe. Once thawed strawberries are not as firm as fresh.
Fresh Strawberry Recipes
Using the fresh strawberries to make some of my grandma's favorite recipes bring back such fond memories. I recently went through my grandma's old recipes and pulled out so many of my favorites. It is my pleasure to share these strawberry ones with you.
Strawberry Shortcake
I think Strawberry Shortcake is as much a symbol of summer as picnic's and fireworks. It is also one of the easiest desserts to make. Everyone has a different take on this dessert.
Let's start with the Strawberries, rinse the fresh strawberries, remove the stem and leaves.
Removing strawberry stems and leaves ~ this can be done in a couple of different ways. Some prefer to use a strawberry huller. There are several on the market and all work well. My grandma used a very small sharp knife and went right in alongside the stem and popped it out. Some are also able to just pull it out.
After rinsing lightly and removing the stem, quarter your strawberries and add a small amount of sugar. The amount you add really depends on the sweetness of your berries. Keep in mind this sugar will create the syrup in the berries that soaks into the shortcake. YUM YUM. Refrigerate until ready to serve.
For the shortcake part of this dessert, many prefer to use a pound-cake base. An all-butter pound cake is delicious with strawberries, whether it's purchased or homemade. I prefer a dryer sweet biscuit type shortbread, using your own biscuit recipe or simply use the one on the back of the Bisquick box.
Strawberry Shortcake Biscuits
Course Dessert Servings 6 servings Author Betty Crocker
Ingredients
2 1/3 Cups original Bisquick mix
3 Tbsps Sugar
1/2 Cup Milk
3 Tbsps Butter Melted
1/2 tsp. vanilla
Instructions
Heat oven to 425
In a medium bowl, stir Bisquick™ mix, milk, 3 tablespoons sugar and the butter until soft dough forms.
Divide dough into 6 equal portions, free form each portion into a biscuit.
Place each biscuit onto a parchment covered cookie sheet.
melt an additional 2 Tablespoons on butter and brush the tops of the biscuits, then sprinkle with sugar just before baking.
Bake for 10 – 12 minutes or until golden browns
When the biscuits have cooled, slice in half. They may be crumbly, I just break mine open or in pieces. Layer with strawberries and either real whipped cream or ice cream. Top with additional strawberries.
No-Bake Strawberry Cheesecake Jars
My grandma made these in individual dessert bowls, but I have fallen in love with the little 4 oz canning jars. So I make my cheesecake in them.
No-Bake Strawberry Cheesecake
Course Dessert Keyword Strawberry cheesecake Servings 6 servings Author Grandma Alma
Equipment
Kitchen Aide Mixer, small canning jars
Ingredients
Crust
6 grahm crackers (for a non traditional taste you can use vanilla wafers or pecan shortbread cookies) finely crushed
2 Tbsp Butter melted
2 Tbsp Sugar
Filling
1 pound Strawberries
1 pkg Cream Cheese (8 ounces) Softened
1/2 Cup Heavy whipping cream Whipped
1/2 Cup Sugar
1 tsp Vanillia
1 Tbsp lemon juice
Instructions
Crust
Finely crush crackers/cookies. Mix crumbs, sugar, and melted butter. Divide the crumb mixture evenly between the jars. Press crumbs firmly into the bottom of the jar and set aside.
Filling
Rinse strawberries, remove the stems and leaves. on a cutting board chop the strawberries. Set the berries aside in a bowl.
Using your Kitchen aide mixer whip the whipping cream on high speed fully whipped. Set aside.
Using your kitchen aide mixer on low, Beat cream cheese, sugar, vanilla, and lemon juice until the mixture is smooth.
Fold in the strawberries and the whipped cream, until fully mixed.
Divide evenly among the jars. Cover and refrigerate or serve immediately topped with a strawberry.
Strawberry Pie
Strawberry pie is another sign of summer. And oh so delicious! Strawberry pie comes in many different varieties. Some will insist that only a traditional crust will do while others must have a graham cracker crust. I could even see a crust done with vanilla wafers. The choice really is yours! It is really going to depend on what type of filling you are going to have. You heard that right! There is a wide variety of filling you could have for your strawberry pie.
An old fashioned strawberry pie, uses strawberries, sugar, flour, butter, and cinnamon in a traditional crust, topped with another crust.
A strawberry glazed pie, you know the one. The strawberries are piled high in a graham crust with a delicious looking glaze covering them all. Makes your mouth water just thinking about it.
Strawberry cream pie, a cream base, with either pudding or a cream-cheese, topped with glazed strawberries. I've even seen this does with a chocolate base topped with strawberries and chocolate drizzled on top of the berries.
Strawberry rhubarb pie, get a little adventurous. This is one of my favorites. There is something about the sweetness of the strawberries and the tang of the rhubarb. Yum Yum!
When I am making a strawberry pie, I will make enough filling for two pies. I freeze enough filling for one pie in a large zip lock baggie. Then when strawberries are no longer in season we can still have fresh strawberry pie.
These are just two of my favorite recipes from Grandma's Kitchen.
Strawberry Cream Pie
Course Dessert Author Grandma Alma
Ingredients
1 pound Strawberries washed, destemed and sliced
13oz pkg strawberry glaze This is simple to make but more cost effective to buy
4 oz pkg cream cheese softened
1/2 cup powdered sugar
1 cup heavy whipping cream
1 tsp vanillia
1/2 tsp orange extract
Instructions
Choose your pie shell, either traditional crust or a graham cracker crust works well with this recipe. If using a traditional crust, prebake the crust. also referred to as blind baking.
To bake a pie crust ~ carefully line the pie crust with parchment paper and the use either dry beans or pie weights to weigh down the shell. This will keep the shell from puffing up in places or sliding down the edges as it bakes. Bake in a 400-degree oven until the crust is starting to brown, about 15 minutes. Remove the crust from the oven and carefully remove the pie weights and the parchment paper. To finish baking the pie crust, return the crust to the over without the weights and parchment paper so that the bottom of the crust can finish baking. About another 15 minutes. remove for the over and set aside to cool.
While the crust is cooling combine the strawberries and the glaze. refrigerate to chill.
Beat the whipping cream in your electric mixer, once the cream is whipped add the sugar, cream cheese, and extracts and mix until combine. beat until the mixture is thick and creamy.
Pour the cream cheese mixture into the fully baked and cooled pie shell. Spread evenly in the crust.
Top the cream cheese mixture with the chilled strawberries.
Refrigerate the pie for 1 hour before serving.
Strawberry Rhubarb Pie
Course Dessert Author Grandma Alma
Ingredients
1 Your favorite pie crust (top and bottom) unbaked
Filling
2 1/2 cups strawberries washed, de-stemmed and sliced
2 1/2 cups rhubarb washed and diced
1 1/4 cups white sugar
2 Tbsp Flour
3 Tbsp quick cook tapioca
1 tsp vanilla extract
1/2 tsp orange extract
1/2 tsp orange zest
3 Tbsp butter (diced or grated) I like to freeze a stick of butter and then grate as needed
Instructions
Assemble pie crust in the pie dish and set aside the second dough ball for the topping.
Combine all ingredients (except the butter) in a large bowl, strawberries, rhubarb, sugar, flour, tapioca, extracts, and orange zest. Mix well. and spoon into the crust. Mounding in the center.
Grate 3 Tablespoons of butter onto the top of the filling.
Roll out your second dough ball into a crust for the top. Crimp the edges together to keep the filling from boiling out while baking.
Slice a cute design onto the top of your pie crust to allow steam to escape while cooking.
Brush the top crust with a beaten egg white wash, and sprinkle with sugar.
Bake in a 375 preheated oven for 55 – 60 minutes until the crust is golden brown and filling is bubbling. If the edges are browning to quickly cover the edges of the crust with aluminum foil.
Cool completely before serving
Strawberry Jam
Fresh strawberry jam is why most of us go strawberry picking. Most of grandmas strawberries did end up being jam. Nothing wrong with that. In the middle of winter, strawberry jam on toast, biscuits and even pancakes was a wonderful treat.
Over the years I saw Grandma make different recipes of jam. Even one where she cooked it, put some on a plate, and then run her finger through it to see if it was set. The last two strawberry jam recipes of hers both used sure jell. One she canned and the other was a freezer jam recipe. Both varieties were fantastic.
Strawberry Jam
Ingredients
2 quarts fully ripe strawberries washed, de-stemmed, cut, and crushed to equal 5 cups berries
7 cups Sugar
1 box Sure Jell
1/2 tsp butter
Instructions
Bring boiling-water canner, half full with water, to simmer. Wash jars and screw bands in hot soapy water; rinse with warm water. Pour boiling water over flat lids in saucepan off the heat. Let stand in hot water until ready to use. Drain well before filling.
Wash, stem, and crush strawberries thoroughly, one layer at a time. Measure exactly 5 cups prepared fruit into 6- or 8-qt. saucepot. A food processer works well for this process if you want more consistency with the strawberries.
Stir Sure-Jell into the fruit in the saucepot. Add butter to reduce foaming. Bring mixture to a full rolling boil (a boil that doesn't stop bubbling when stirred) on med-high heat, stirring constantly. Stir in sugar. Return to a full rolling boil and boil exactly 1 min., stirring constantly. Remove from heat. Skim off any foam with a metal spoon.
Ladle immediately into prepared jars, filling to within 1/4 inch of tops. Wipe jar rims and threads. Cover with two-piece lids. Screw bands tightly. Place jars on elevated rack in canner. Lower rack into canner. (Water must cover jars by 1 to 2 inches. Add boiling water, if needed.) Cover; bring water to a gentle boil. Process 10 min. Remove jars and place upright on a towel to cool completely. After jars cool, check seals by pressing the middle of lids with finger. (If lids spring back, lids are not sealed and refrigeration is necessary.)
Strawberry Orange Freezer Jam
Ingredients
3 1/2 cups` Strawberries (measured after being crushed) washed, de-stemmed and crushed
1/2 cup Oranges peeled, cut and smashed
3 cups sugar
1 pkg Sure-Jell
1 cup water
zest from 1 orange
Instructions
Tip:
Strawberries and oranges can be smashed by hand with a fork or potato masher, or put together in a food processor.
Instructions
Crush strawberries, working in small batches until you have 3 1/2 cups of mashed berries.
In a large saucepan mix together the sugar and sure-jell. Stir in the one cup of water.
On med-high bring the mixture to a boil. Stir constantly until boiling has been reached. Continue stirring for one additional minute. Remove pan from heat.
Add the strawberries, oranges, and orange zest to the sugar mixture. Stir for one minute.
Fill your jars leaving a 1/2 inch space at the top. The jam will expand during freezing.
Cover jars with lid and ring.
Let jars stand on the counter for 24 hours to bring it to full room tempature.
Jam can be refrigerated for 3 weeks or frozen for 1 year.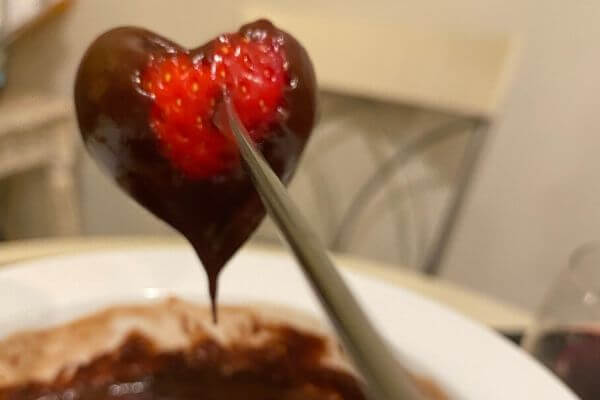 These are a few of my favorite strawberry memories from Grandma's kitchen. There are so many fun things you can do with strawberries. During one of our recent Staycations, we made chocolate fondue and dipped strawberries in the chocolate. So Good!!!
What is your favorite way to use this summertime treat? We'd love to hear any new ways to use strawberries.
Gary & Michelle
XOXO
We would love for you to stay in touch!
Whether you have a question about our site, want to work with us,
or just want to say "Hi" please feel free to send us a message.
You can reach us at [email protected]
Or follow us on Social Media
Facebook @ Love and our Laptop Lives
Pinterest @ Love, Travel and our Laptop Lives
Instagram @ Love our Laptop Lives
Twitter @ Love and our Laptop Lives
Youtube @ Love and our Laptop Lives
Amazon Store @ Love and our Laptop Lives